Daisy Geoffrey, Owner of Better Together Shop
Name:
Daisy Geoffrey
Craft:
Shop owner & Stylist
Hobbies:
Snowboarding, trail running
Hometown:
Santa Fe, NM
Shop:
Better Together, 1703 Lena St, Santa Fe, NM 87505
Contact:
Daisy Geoffrey invited us into her store, Better Together, just a few days before the grand opening. She was in the final process of renovating and updating the physical space - painting the walls, repairing holes, hanging shelves and racks - and was busy stocking the fixtures with products. We could already tell the store was going to be beautiful. It's a light filled space with creative detailing (she used metallic gold paint to cover up any final imperfections in the space) and the clothes she was unpacking looked trendy and hip, far different from the clothes you typically see on shelves in Santa Fe. Daisy spoke with us about how she came up with the idea of Better Together and her journey as a millennial female starting a business on her own.
SFF: Thanks for having us in your shop, Daisy! So let's start from the beginning. You grew up in Santa Fe, right?
DG: My family is from London originally and we moved here when I was five. I've always loved fashion and clothes and expressing myself through my wardrobe. I went to school in New York City at The New School, did styling and assisting there, and then I moved to Los Angeles and was a buyer out there.
SFF: Who did you style for?
DG: I assisted this stylist named Shirley Kurata, did a few shoots for GQ, some films and music videos, and a lot of indie projects. Then, four years ago, I moved back to Santa Fe with the intention of leaving, but soon realized everything I was looking for was right here. I was really happy being here. I was a snowboard bum for a few months when I first got back and then I got a job at the opera doing PR and media. But it was about a year ago that I had this huge thought that I needed to do something else. And that's how I ended up here.
SFF: What made you want to open a store?
DG: Well first I realized I couldn't do what I was doing at the Opera anymore. I meditated on it for months and was trying to figure out what I wanted to do. I got so frustrated because I'm surrounded by such creative people. My boyfriend is a drummer to the bone, like music is him, and one of my brothers is a visual artist. So I was asking myself, "what's my thing?" Then one day I was listening to a podcast with Michael Kors while I was folding laundry and he said "Follow what you've always been curious about." And immediately I thought, "It's clothes!" So thank you Michael Kors, and podcasts in general, for providing so much inspiration.
SFF: Wow, that's pretty funny. How did the concept of Better Together arise?
DG: Well, after that I was thinking of what it should be called, and Better Together just came to me. I wanted to create a space where people can come in and feel themselves and find things to help express themselves, and hopefully meet other people. I want to have events and programs that feature the young community. For the website, I plan on hiring local models and young talent, so we can help to create industry for each other.
SFF: That's wonderful! And you care about that because you're from here.
DG: Yeah I care about it! There are a lot of people who are new to Santa Fe and are super rad, and I think it's so important to nurture that part of our city. And with Meow Wolf and Descartes Labs, there are more young people moving here. My friend works in recruiting at Descartes and her job is to sell Santa Fe to people they want to hire. But how are you ever going to sell a town when there aren't businesses targeted toward young people? So I hope Better Together is really good for Santa Fe. Right now there isn't much that showcases Santa Fe in terms of fashion and retail online, so I want to shoot every editorial out in Santa Fe and the surrounding area to show it off.
SFF: That's what we want to do too! Santa Fe really can be a cool place for young people and it's not represented like that online. What are your favorite places in Santa Fe? Where do you go to hang out?
DG: La Reina is now my favorite spot - the owners are so nice. Opuntia is cool too, but I only really eat at three places: Sweetwater Harvest Kitchen, Fire & Hops, and Paper Dosa. Santa Fe really needs more good, clean, healthy restaurants. I also love to go on hikes and trail run. My favorite trail Norski Trail up by the ski basin. It's wooded, so it's beautiful in the fall when the aspens are changing. When I go up there I feel like I'm in a magical fairy land. Bear Wallow is another of my favorite ones. It's longer and it's more difficult, but it's really beautiful. I also take workout classes at Thrive and Temple & Tribe, which is next door.
SFF: Is that how you decided on this location for the store?
DG: Yeah, and it totally fell into my lap. I've been working out next door for a couple years now, and I've always loved how they have a garage door that opens so you can look outside while you're exercising. It made me realize how cool this neighborhood is and that it's the exact location I'd want my store to be in. When I finally decided to open the store, I told one of my friends about the idea. She knew the owner of Temple & Tribe, so the next day the owner called me and urged me to take the space. I only had 24 hours to decide!
SFF: Oh my gosh.
DG: I was so unprepared. I had only just come up with the idea and I had no money. But the rent was affordable and it's in the perfect neighborhood, so it felt too good to be true. This side of town is where younger people are, there''s traffic with Iconik, and I love the garage door. However, I've had to renovate it for months to make it look like this. The floors weren't connected to the walls and there were all these holes everywhere.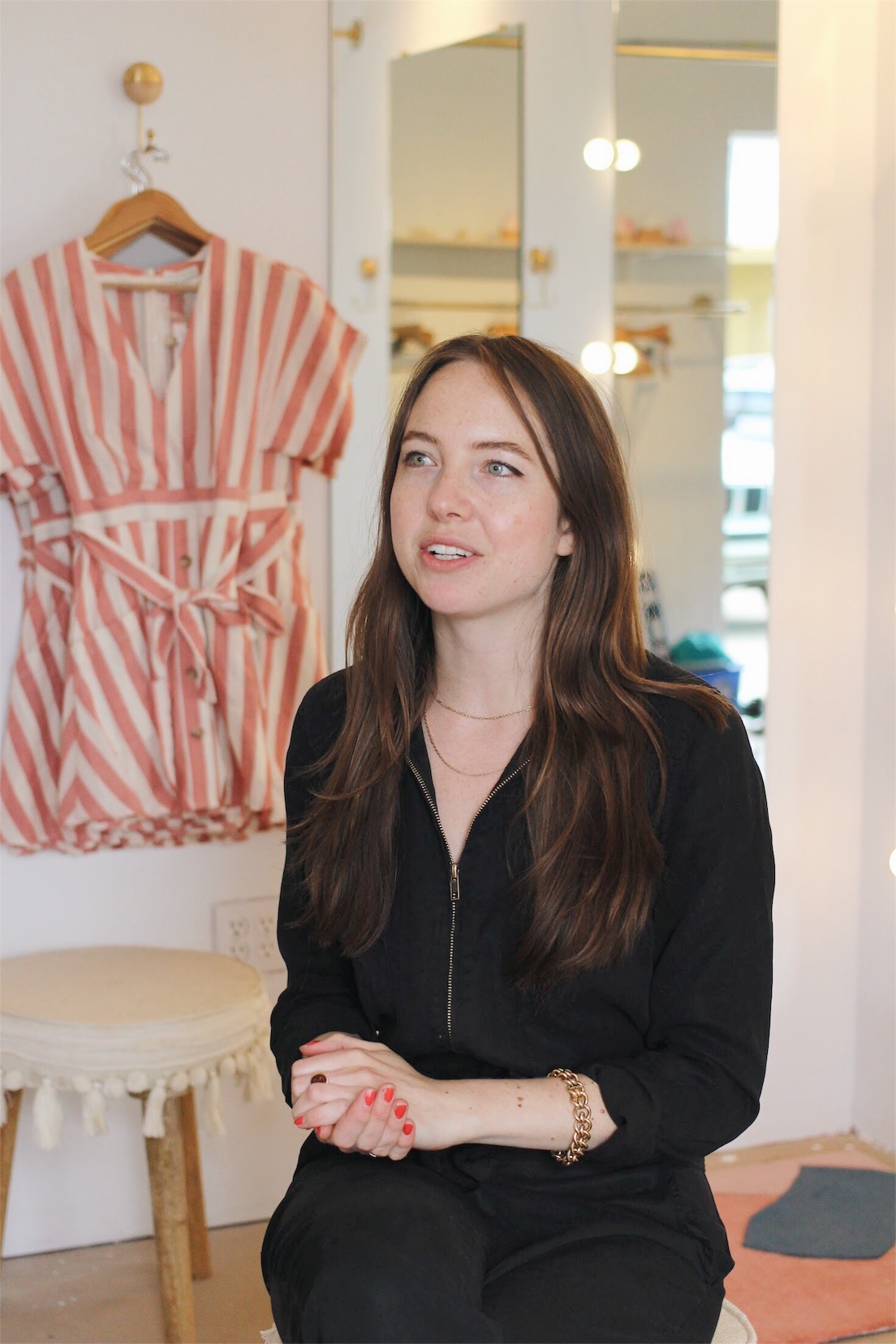 Growing up, I didn't know any female entrepreneurs. None. But now with Instagram, I'm seeing other young people doing cool shit. And because of that, I've been able to convince myself that I'm capable of doing it too.
SFF: Well it looks beautiful now! It's the perfect amount of refined and unrefined; like the crisp white walls with the industrial flooring.
DG: Everyone has come out to help. My friends have been so sweet. It's been incredible and overwhelming how much people have helped. I just hope to be able to give it back one day. There are many negative things to say about social media, but one really good thing is that we get to see things that we wouldn't normally see, and see people doing things that we wouldn't normally see them doing. Growing up, I didn't know any female entrepreneurs. None. But now with Instagram, I've catered my feed so I'm seeing other young people doing cool shit. And because of that, I've been able to convince myself that I'm capable of doing it too. I really didn't think that was possible before. You're doing something important with Santa Fe Found to create a platform to show other people that they can be entrepreneurs too. Without that exposure, we're not really programmed to think it's what we can do. We're taught to get a 9-to-5 and all of that. Down the line I'd love to have a mentorship program for young women and girls to connect them with female entrepreneurs. We just need to see more to be able to know that we can do it.
SFF: I love that. The people I follow online, even if they're people I've never met, are the people I take cues from for what is possible. There are a lot of negative things about social media, but it can be a really cool tool if you curate it well enough. Just follow people who inspire you and make you feel empowered to do new things.
DG: It's just like in your normal day-to-day life. It is so important to surround yourself with people who lift you up. It can be hard sometimes because you might end up not being friends with people from your past, but when you get to a point in your life where you have big aspirations, you need to be around people who make you feel like the best version of yourself. And you get to do that for them, so it's a two way street.
SFF: Can you tell me more about the mural? Who painted it?
DG: My eldest brother who lives in London is a renowned street artist and he loves playing with type and letters. When he was in town earlier this year he painted it and he'd always wanted to do something with this turquoise color. He painted it in just two days and did it freehand. No tape. I'm very lucky to be related to extremely talented people.
SFF: And the color fits New Mexico perfectly.
DG: Yeah, and he did the logo too. When I came up with the name, the logo came to my brain at the same time. I like it because the crossed fingers mean "tight", but it's also the symbol for making a wish, so it's hopeful.
SFF: Yeah, it's optimistic.
DG: All the optimism we can get right now is a good idea.
SFF: And your vision is to have outdoor seating here as well?
DG: Totally! I plan to to open the door, put a rack outside, and have it be a super welcoming space.
SFF: How would you describe the clothes that you carry? Would you say it's representative of your personal style?
DG: Generally, it's stuff that I think is cool and would be a cool tool for expressing yourself through your personal style. I obviously pay attention to what's trending and when I've been buying, I always think about my friends and what they wear. When I was first starting I would text my friends to see if they would wear something all the time. I would ask them, "Would you wear this?" "Would you buy it at this price point?"
SFF: What's your personal philosophy toward fashion?
DG: I have always expressed myself through my clothes. When I first started working in styling in LA, I remember talking to my brother Oliver and expressing that I didn't feel like what I was doing was important. I had studied journalism and was into these bigger picture things. And he totally disagreed with me. He told me I was doing something that helps people feel good. We've all been there where you buy a cute new piece of clothing and you're so excited to wear it, it makes you feel good when you put it on. Because of that, you're going to be in a better mood, you're going to have a better day, and you're going to share that emotion with other people. Once I started to look at fashion and styling like that, it made me realized fashion is part of feeling good. My hope for Better Together is to have clothing, accessories, and beauty products that help people find style in all different aspects of their life. I want the store to be a place where people feel comfortable and compelled to come by and say hey, a place where people find the tools to express themselves through their personal style, and therefore find more inner strength. And a place for young people, to be a stage for them.
You can visit Better Together at 1703 Lena St, Santa Fe, NM 87505. It's open Tuesday-Sunday 11-7.